Under hospice care and 88 years old, Tom realized his days were numbered. But he also realized there were things he needed to get done. There was one in particular. He had trusted the Lord many years ago, but had not followed the Lord in baptism. This was his one great regret as a believer.
The Heavenly Father, knowing the desire of Tom's heart, sent a person and a church to help in the fulfillment of this desire. Hearing Tom's story from Traci Haye, a member of Southside Baptist Church, the church was set in motion to help Tom with his dream. Care Pastor, Johnny McDowell, and myself, the Pastor to the Seniors at Southside, paid a visit to Tom while he was in the nursing home. The main topic of discussion came down to one question. Tom wanted to know if it was too late for him to be baptized. Before this question could be answered we needed to know about his salvation experience.
Born into a large family in 1930, Tom eventually ended up in an orphanage in Kentucky. The people at the orphanage told him his mom and dad had abandoned him, but he considered much of what they had to say to be just hearsay because there were very few records back then. We were later to believe, through the investigation of Don Miller of Macon, that in actuality Tom's parents died, and he had been placed in an orphanage. Tom was eventually placed in the home of William and Roberta Mahon of Taylor County, Kentucky. Although he had biological siblings, Tom had no recollection of them.
The Mahons took him to church, where he learned about the Lord. He knew a lot about God but did not know him personally. This came later, when, in battle, he was faced with life or death during a particularly dangerous situation. In a bunker, thousands of miles from home, he knelt and gave his heart and life to Jesus.
Earlier, due to an adventuresome spirit, Tom decided he would join the United States Air Force at the age of 14. He lied about his age and left home to do just that .This adventure lasted only a couple of weeks before he was sent back home where he went to work with his stepfather in the oil business. Then at age 17, he determined to get out on his own. So, he joined the Marines and found himself in the middle of the Korean War.
Having survived his bunker experience and a few other battles, Tom safely made his way back to the States where he married and had three children. Unfortunately, the marriage failed, and his wife left and moved the children to another state. He would never see them again. He took full responsibility for the failure of that marriage and the others marriages which followed. With his family gone, and the pressures of life mounting, he hopped an outbound train and spent the next two years of his life riding around the country and living in hobo camps. He was on the run, but he couldn't get away from the fact that God had saved his soul that day in the bunker.
During this time, he formed a friendship with a traveling companion. It was nice to have someone to watch his back as he moved around the country. On one occasion, his friend talked him into hopping off a train in Georgia so they could catch another train going to Florida. When Tom jumped, he severely hurt his leg. Not wanting to miss his Florida train, his friend left him there. Abandoned by his only friend, Tom crawled out to the road and eventually received help. This ended his life as a hobo.
In need of resources and some stability in his life, Tom returned to the oil business, but he couldn't get away from the fact he was running from God. He returned to church, studied the Scriptures, and even took some Bible courses. Eventually he became an assistant pastor in a small church in Macon, Georgia.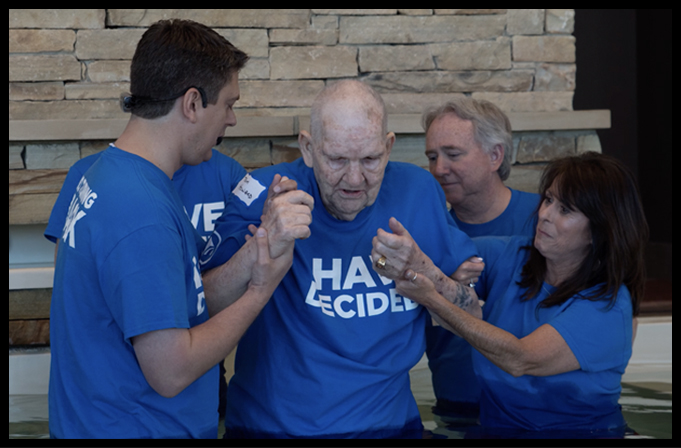 Many times he entertained the thought of following the Lord in believer's baptism but it just seemed that life somehow got in the way. But at 88, with his health deteriorating, he realized his own mortality and wished to be obedient to God. So with all this information at hand, we devised a plan of action. Three of our Southside pastors would enter the baptistery to help. And on his special day, a weakened Tom struggled to approach the water, came safely up out of the water, as an obedient child of God.
Obedient at last! The church audience actually stood up and cheered. What a blessing for all of us.
Tom's knowledge of his biological family was full of bits and pieces and misinformation. I did some investigating regarding this which I shared with him while visiting. He tried to understand what I was saying but his mind was not clear and he could not understand. Confused, he said to me, "Pastor Roger, I just don't know about all these new details regarding my family; however, I am sure of one thing, I am part of God's family and that is enough for me." And it surely was, when on a Monday morning in August, 2018, he stepped into the presence of his heavenly family. Well done, Tom.
What does God want you to do with your life? Baptism, service, witnessing, giving, and faithfulness are just a few areas of obedience. It might even be an old habit that you know doesn't please the Lord. Don't wait to be obedient. "Later" is not the answer God wants to hear when He moves your heart to make a decision. Sometimes the word "later" represents a lifetime. Tom got his situation straightened out. How about you?
Isn't God's grace a wonderful thing?!
Roger Allen Cook
I love to write stories about God's grace. If you have a story I should consider, please contact me at: Roger.Cook@SouthsideFamily.com.